I love this recipe and so do my kids. For the first time ever, I could tell my youngest son that he could actually have a cookie for breakfast. They are super easy and tasty – my husband loved them too!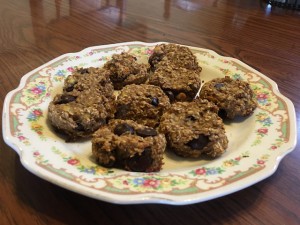 Ingredients:
3 ripe bananas mashed (can sub pineapple if you don't like bananas)
⅓ cup natural applesauce
2 cups quick oats
¼ cup almond milk (can sub regular milk)
½ cup dark chocolate chips or raisins
1 tsp. vanilla
1 tsp. cinnamon
½ cup chopped walnuts (optional)
Instructions:
Mash bananas and pour into bowl. Add applesauce and milk,  vanilla and cinnamon, mix together. Pour in quick oats. Stir well. Add chocolate chips or raisins. Drop onto cookie sheet. Bake at 350 for 15 – 20 minutes. Enjoy!