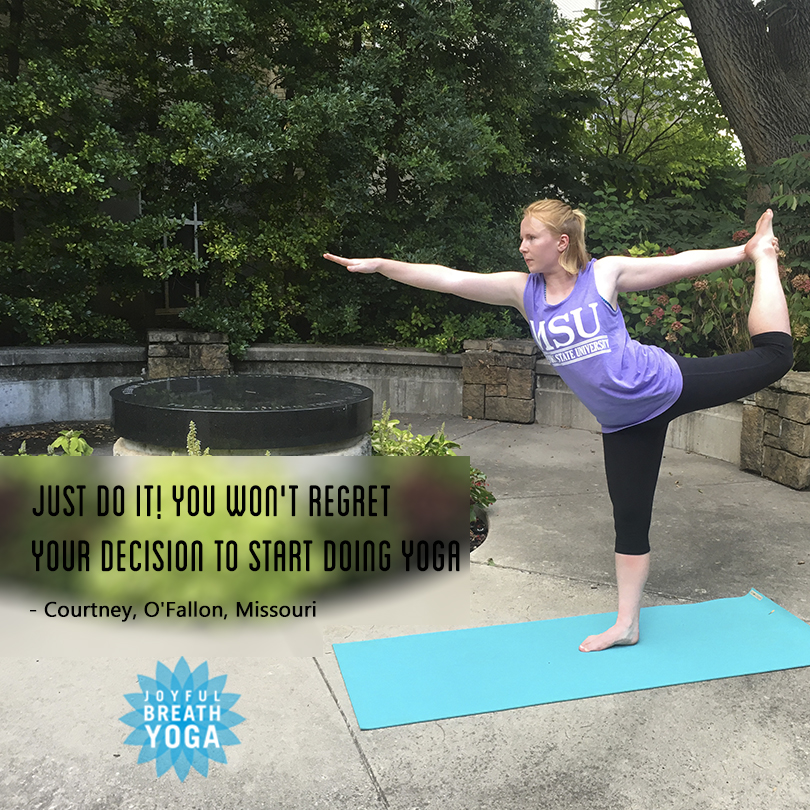 Member Spotlight: Yoga helps you connect with yourself
Another one of the multiple benefits from yoga, besides body movement improvement is that you get to connect with yourself and know yourself better, here is Courtney's yoga Success story.
How did you get into Online Yoga?
My best friend Lauren O'Bryan introduced me to yoga our freshman year of college. I absolutely fell in love with the practice. 
How long have you been practicing Yoga for?
I've been doing yoga for almost a full year. 
What is your personal opinion about Online Yoga?
I absolutely love online yoga. I'm a college student so being able to just log onto my laptop and pick any class I want is absolutely amazing. It's quick and simple and I have a large variety of classes to choose from. I can also pick the type of class I want based on how I'm feeling that day. This is especially useful for me since I'm a runner, so sometimes I'll have hard runs and I'll settle for a gentle yoga session. Online yoga is easy and accessible for college students! 
Do you recommend Yoga?
ABSOLUTELY. Before I started doing yoga I couldn't even touch my toes! Yoga has helped me really connect with myself and it has helped me discover parts of myself I didn't even know existed. Yoga doesn't just make you flexible, the practice itself makes you love your body and mind. I've never felt more connected with who I am. I recommend yoga to practically everyone I meet. Yoga is definitely something I believe everyone should try at least once. For me, it has helped me shape myself into the person I want to be. 
Do you see any difference between online and studio Yoga?
The only difference is people in the room. I've had wonderful experiences both online and in the studio. 
Would you like to give any advice for all the people that doesn't feel confident or flexible enough to start doing Online Yoga?
Just do it! You won't regret your decision to start doing yoga. Online Yoga lets you go at your own pace so you never need to worry about not being flexible enough! Especially to every college student, online yoga is a simple and quick way for you to get your daily exercise in! Practicing yoga has definitely changed my life for the better and I hope it does for everyone else that chooses to practice.
Would you like to start doing yoga today, check our website here.