My most amazing brownies ever thanks to Namaste Foods Gluten Free Brownie mix.
Brownies are, and have been for almost 25 years my staple, stand by, guaranteed to please everyone desert.  I add in some chocolate chips and top with some powdered sugar and I feel like a true Betty Crocker.
Namaste Foods has created a Gluten Free Brownie Mix that will now elevate me to an official "brownie goddess"  with my friends and family.
These are truly the best brownies that I have ever made or tasted.  They have a rich chocolate taste combined with a moist, melt in your mouth texture that makes them irresistible! All four of my children upon tasting them said "WOW, Mom these are the best brownies EVER!"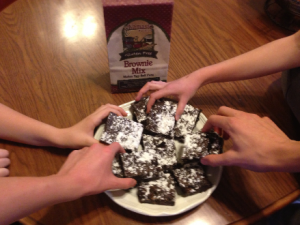 I actually went and put in my retainer so that I would not keep eating them.  These are the moments when I am so happy I have four children and a husband that will devour them all.
Daphne Taylor outdid herself with the magic creation of these brownies. I LOVE that her gluten free brownie mix is made with brown rice, arrowroot and tapioca flour.
Bake these and prepare to be the favorite person in the room!
Thank you Namaste Foods for another amazing product.