Teacher
Amanda Boeddeker

My first group fitness class was yoga, a class that my mom asked me to join with her. My mom had been going for months, initially because of a recommendation from her nutritionist and cardiologist to reduce her LDL cholesterol levels. As a habitual runner, free weights and body resistance training kind of girl, I walked in with low expectations for how much of a workout I would really feel after finishing the class.

That yoga class completely changed my outlook on yoga. I opened my eyes to the intense core training, not to mention the triceps, thighs, and back sculpting I could get out of this practice. This was the hook that pulled me into more classes, and later came my understanding of breath and mindset during a yoga practice. When I didn't practice, I noticed a change and found myself craving yoga!

Since then, I became certified in Yoga Fit Level 1, Turbokick Gold Level, and Piyo Strength, teaching two to four times a week for nearly four years now. I work a full-time job as a consultant with Accenture, and still manage a good amount of time for my loving collie pup, Wynter. And of course, I fit in a couple yoga classes at a local D.C. yoga studio!
Featured Videos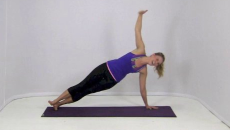 LEVEL
1
Vinyasa Flow Challenging