Don't worry about your turkey burgers falling apart or sticking to your hands with my husband Tom's  recipe. Enjoy the added  taste with the eggs and oatmeal.  O'Bryan family favorite: Add fresh chopped cilantro, red peppers, and onion. Make extra's – you will want leftovers!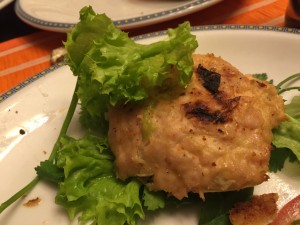 Ingredients:
2 lbs ground turkey
1 cup quick oats or almond flour
2 eggs
2 tbsp. olive oil
2 tbsp. Montreal steak seasoning or favorite seasoning
Can also add diced peppers, onions, tomatoes ½ cup each
Mix all ingredients together. Make sure your hands are wet when forming burgers and place them on a wet plate to keep from sticking. Place in freezer before cooking for 20-30min. Either grill or cook in skillet with 2-3  tbsp. of melted coconut oil in pan.