By Amy Rutherford
Eating Psychology Coach in Training
I've been making this recipe a few times a week. I've eaten it for breakfast, lunch, dinner and snacks. It has great healthy fats and is more filling than you might think. My kids both love the sweet potato chips, and my daughter would eat all of the guacamole if I let her, so don't be surprised if you need to make a couple sheets worth of chips!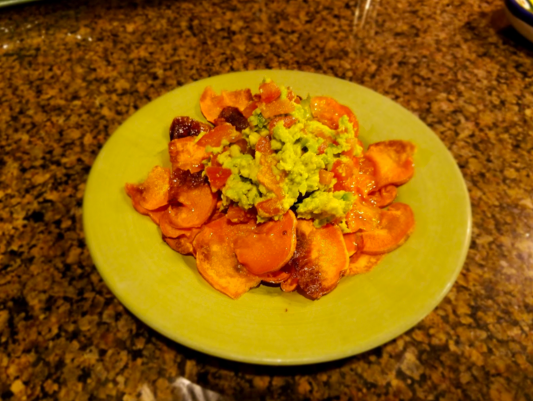 Ingredients
Sweet potato

Olive oil

Sea salt

Avocado

Tomato

Red Onion

Jalapeno

Cilantro

Lime juice
Preheat the oven to 350. Cover a baking sheet (or two) with aluminum foil. Pour olive oil on the foil and spread out with a pastry brush so that there's a thin layer all over. After cleaning all of the produce, trim the end of your sweet potato, then slice with a mandolin slicer. Place one side on the oiled baking sheet, then flip to the other side for baking. This ensures there is just enough oil on both sides for the chips to be crispy. Sprinkle with sea salt (I usually use about a dime size amount). Put in the oven for about 8-10 minutes.
While you wait for the chips to bake, cut your avocado in half. Scoop it out into a bowl, discarding the seed. Mash it with a fork (you'll want it to be ripe enough to mash easily). Add the rest of the ingredients as you prefer (red onion, cilantro, tomato, jalapeno, lime juice, sea salt). I personally am not a big fan of raw onions, so I just use onion powder. I also don't usually have fresh cilantro on hand, so I used dried cilantro instead. Mix everything together. This is a very simple recipe for guacamole, but I've found it to be my favorite, and one that most Mexican restaurants use.
Check on your chips to see if they're done. Oven times can vary, especially depending on the size and thickness of your potato slices. I like mine best when they're just beginning to brown around the edges. Once they've cooled down a bit, you should be able to scrape them right off with a spatula. Top with guacamole and enjoy!