By Amy Rutherford
Eating Psychology Coach
This is a great, simple option for breakfast, but you can also eat it throughout the day. It's a great choice if you're a bit under the weather, as it contains "superfoods", especially if you have a sore throat.
Açai Bowl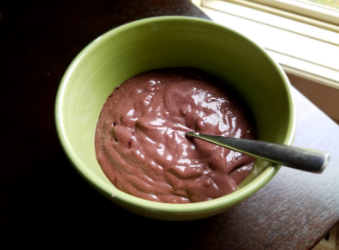 You'll need:
½ cup unsweetened coconut milk (it separates in the can, so you need to make sure you get about equal amounts solid and liquid)

2 TB açai powder (usually found in the health section)

2 ripe, frozen bananas

1 TB chia seeds, soaked in water for at least 15 minutes

Additional fruit, nuts, granola optional for topping (I didn't use as I had a sore throat)
Place the coconut milk in a blender with açai powder, bananas and chia seeds. Blend on high until creamy. You can add more milk if desired, depending on what consistency you prefer. Transfer to a bowl and top with optional toppings listed above. It tastes a bit like fruity pudding. Enjoy!
If you'd like to see more recipes along with other eating psychology topics, please check out my Facebook page at: www.facebook.com/AmyKRutherfordEPC, or email me at AmyKRutherfordEPC@Gmail.com. I look forward to connecting with you!