By Amy Rutherford
Eating Psychology Coach
This month I'd like to share a fun summer dip I've found called mexican street corn or esquites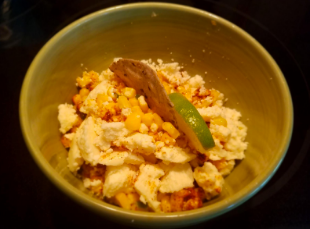 Ingredients:
2 cups corn – fresh is best (and most flavorful-you can find at the farmer's market), then frozen, then canned. If you choose canned try to go organic as those cans don't use BPA like most conventional cans do

2 TBS unsalted butter – organic, from grass-fed cows is best

1 serrano pepper, diced – jalapeño would also work and would be less spicy, habanero would be more spicy

½ tsp salt – I love to use Celtic sea salt or Himalayan salt as they are a great source of trace minerals and aren't processed like table salt is

2 TBS mayonnaise (I like Sir Kensington's as it's non-GMO) or Mexican crema

⅛ tsp cayenne pepper

¼ tsp chili powder

2 TBS cotija cheese or queso fresco, crumbled

1 lime, cut into wedges
Instructions:
Using a medium skillet, melt the butter and add the pepper, sauté for 2 minutes. Add the corn and salt and heat through, about 4 minutes. Remove from heat and let cool slightly. Add the mayonnaise and stir to combine. Transfer to whatever bowl you plan to serve the dip from. Sprinkle the cayenne and chili powders on top of the corn mixture. Top with the crumbled cheese and lime juice and serve with tortilla chips (I'm loving Target's organic corn tortillas with flax seeds). This would also be delicious on top of chicken or steak. Enjoy!