This homemade protein bars are delicious and really easy to prepare.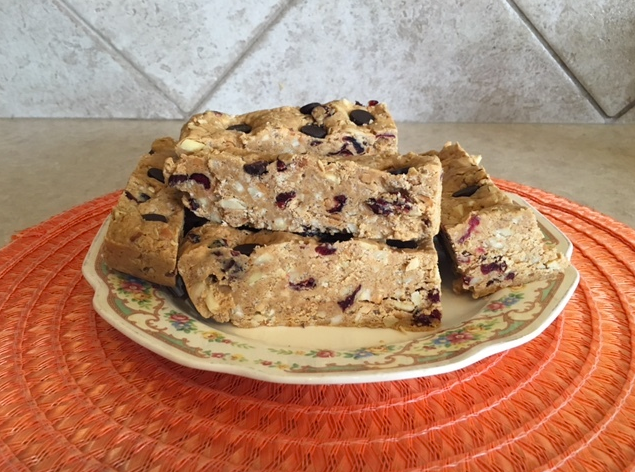 Ingredients:
1 ½ cups French vanilla whey protein powder (Jarrow French Vanilla on Amazon)
1 cup  Rice Krispy's
1 ½  cups Quick Oats
1 ½ cups chopped almonds or walnuts
1 cup natural almond butter (with added oil)
1 cup cup natural peanut butter (with added oil)
(Skippy Natural Crunchy Peanut Butter works best)
½ cup raw honey
½ cup ground flaxseed (optional – add extra rice krispy's if not using)
½ cup dried fruit
Optional – ¼ cup dark chocolate chips
***Can also make with either entirely peanut butter or entirely almond butter
Add all dry ingredients in a mixing bowl except for chocolate chips. In microwave heat almond butter, then peanut butter until melted. Pour into mixture. Heat honey in microwave (approx. 30 sec). Pour into mixture. Stir well. Pour into a 9×9 pan and press firmly with spatula until formed in pan. Add chocolate chips on top if you would like. Refrigerate, and then cut into bars – makes approximately 12-14 bars. Keep individually packaged in refrigerator or freezer.
**May need to add extra peanut butter – depends on the brand and amount of oil in each brand. I sometimes add an extra ½ cup peanut butter, just keep adding slightly more heated peanut butter until mixture has all dry ingredients completely mixed.
Approx. 20-25g protein/250 – 300 calories per protein bar and lots of the good fats. Enjoy!