Spice – and herb – up your meals!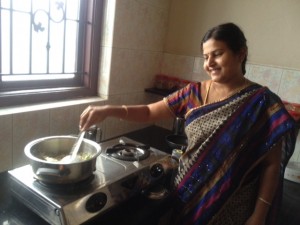 I have used a lot of spices to make this gravy.
 Everyday herbs and spices may do more than enhance the flavor of food. Relatively small amounts of dried and fresh herbs and spices have a lot of health benefits.  Antioxidants, the hottest topic to hit nutrition in years, have cropped up in a host of whole foods—fruits, vegetables, nuts and grains. Now a recent study indicates that a surprising category of plants should be added to the list: herbs and spices.
CHICKEN GRAVY
Recipe Category: Sidedish | Recipe Cuisine: South Indian  | Serves : 4
Chicken – 1 cup cleaned (around 10-12 small pieces)
Curd – 2 tbsp
Turmeric powder – a generous pinch
Red Chilli powder – 1/4 tsp
Salt – as required
To roast and grind:
Grated Coconut – 1/8 cup
Dry Red Chillies – 3 to 4
Coriander seeds – 1/2 tbsp
Cumin seeds – 1/2 tsp
Black pepper corns – 1/2 tsp
Fennel seeds – 1 tsp
Big Onion – 1 chopped roughly
Tomato – 1 chopped roughly
To temper:
Oil – 1 tbsp
Cinnamon – 1/4 inch piece
Cloves – 2
Cardamom – 1
Curry leaves – few
Small Onion – 5 to 7 halved
Tomato – 1 small sized chopped roughly
Garlic – 5
Method
Heat a pan and add red chillies, coriander seeds, cumin seeds, black pepper corns, roasted gram and dry roast till slightly golden brown. Then add onion, tomato and saute till onions turn golden brown and tomatoes raw leaves. Finally add in coconut and saute till browned.
Cool down and grind it to a fine paste(sprinkle little water). Add chicken, salt, turmeric powder, curd in a mixing bowl and marinate for atleast 1 hour and set aside. In a pressure cooker heat oil, add cardamom, cinnamon, cloves and saute for a minute.
Then add onion, tomato, garlic, curry leaves and saute for 2mins. Then add the chicken and saute it for 10mins at least. Then add the grinded masala paste and mix well. saute until raw smell completely leaves and the chicken blends well with the masala.
Add 1/2 cup water , required salt (add red chilli powder if required at this stage) and pressure cook for 2 whistles in medium flame. Once pressure releases, transfer it to a kadai (in medium flame) and allow it to boil until oil seperates (this may take sometime). Garnish with corriander leaves and switch off as per your required consistency. It gets thick with time so switch off accordingly.
The spice level can be adjusted to what you like.Serve hot with rice or rotis. Tastes good with both .
Cumin or Jeera Facts:
Cumin seeds not only add taste to food but also are very beneficial for body. Also known as jeera, these cumin seeds have been extensively used in culinary preparations in the Indian subcontinent since ages. 
– It is a rich source of iron and hence very beneficial for anaemia as well as lactating mothers and pregnant women, who tend to need iron more than others.
– It is a great aid in digestion and prevents indigestion, flatulence, diarrhoea, nausea and morning sickness.
– For immediate relief from acidity, chew a pinch-full of raw cumin seeds.
– Cumin seeds have antiseptic properties and aid in curing common colds.
– It doesn't let cough to form and collect in the respiratory system. Since it is supposed to be hot, it dries up all the mucous.
– It would be beneficial to sip on a concoction of cumin seeds and water. Boil a handful of cumin seeds along with water. Drinking this water wards off common colds and keeps the digestive system on track. Many South-Indian households drink only 'jeera-pani' instead of sipping on plain boiled water.
– Cumin seeds help in stimulating the secretion of enzymes in the pancreas which in turn help in the absorption of nutrients.
– Cumin seeds also boost the power of the liver to flush out toxins from the body.
So, make it a point to add a dash of jeera powder in your diet.
JEERA  RICE RECIPE
Ingredients needed
Basmati Rice – 1 cup
Butter – 2 tsp + 1 tsp oil (you can substitute butter with ghee also)
Jeera/Cumin seeds – 1 tbsp
Whole Garam masala
Cloves -2
Cinnamon -1 inch piece
Bay leaf-1
Star anise – 1 (optional)
Preparation
Wash and soak basmati rice in water for 20 minutes. Drain and keep it aside.
Method
Heat butter + oil or ghee in a pan, add cloves, cinnamon and bay leaf, saute for a few seconds and then add jeera seeds.
When jeera splutters, add the drained rice and fry for a few minutes. Add 2 cups of water, needed salt and cook rice till done.
Fluff it with a fork and serve hot with any gravy of your choice. (Today I have made a chicken gravy to go with it.
You can cook rice in a rice cooker  or pressure cooker or in a pan with a lid.