Collegiate Athlete fills training void with online yoga videos.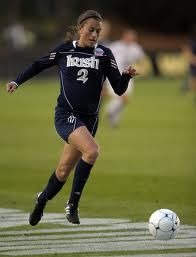 My name is Mandy Laddish and I am a senior at the University of Notre Dame and recent alumni of the varsity women's soccer team. Although my collegiate career ended this fall, my career as a soccer player is just beginning.
In January I was drafted by FC Kansas City to play in America's Women's Professional Soccer League. After graduation in May, I will return to Kansas City to begin my career as a professional athlete.
It is crucial that I maintain a high fitness level throughout the semester in order to return to Kansas City ready to compete with some of the top athletes in the country, and arguably the world. However, achieving my fitness goals has proved to be a harder task than I initially anticipated.
After I was drafted, I was informed that I was no longer eligible to train with my team's strength and conditioning coaches due to certain NCAA policies. Training alone was something that was always difficult for me. I knew I would quickly become lonely, and my motivation would start to dwindle, despite my goals. JoyfulBreathYoga.com has provided me with a convenient and unconventional means of strength, cardio and motivation to reach my goals.
My Introduction to Yoga.
I was first introduced to yoga during winter break my freshman year of college. My training regimen before college was dictated by my club team and required me to drive 45 minutes daily to club team facilities. After my first semester at Notre Dame I had the offer to return to my clubs facilities to train over winter break, but opted to train alone at local fitness centers in order to spend more time with friends and family. A few months prior, my mom had discovered Debra and suggested I come to classes with her so I wasn't always working out alone.
We had never really had the opportunity to work out together, especially because of my schedule. She claimed the class "kicked her booty" and would even be challenging for athletes. Initially I found the idea to be ridiculous. How could yoga possibly provide me with the strength and cardio necessary to maintain fitness levels necessary to compete? Furthermore, did my mom actually think that, at 48, she had fitness levels similar to a college athlete? There was no way that was possible. So I declined her offer and claimed the only way to maintain my fitness was through "soccer specific" strength and conditioning.
My Path of Discovery……
I quickly learned that training alone is not only boring, but also becomes increasingly difficult to maintain motivation. As my mom recognized my struggle, she increased her pressure for me to join her. Eventually, I decided that I would humor her and try it out and attended my first ever power core yoga class. During this class I discovered four things:
Power Core Yoga is extremely challenging
I needed to get stronger
Debra knew she was going to kick my booty and
My mom was, indeed, in better shape than I was.
By the end of the class I had completely shifted my views. I was pleasantly surprised with Power Core and was willing to implement it into my workout plan. I especially enjoyed how much my mother and Debra pushed me to be better. They provided me with the motivation to better myself as an athlete that I lacked when working out alone.
For the next couple years I would occasionally attend classes with my mother during semester breaks, but had some difficulty matching class times up with my schedule. When I returned home this winter break, my mom told me about Debra's website.  I was extremely excited to try it out, because I knew I needed to regain the upper body strength I lose so quickly every college season. By the end of winter break I felt stronger and was able to hold poses longer.
Yoga and My Fitness Routine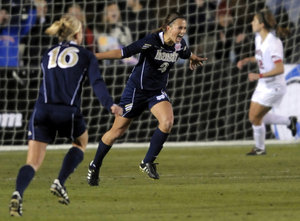 I did not truly discover how beneficial Yoga online videos could be until I returned to school. As I mentioned earlier, after I was drafted, I was no longer able to train with my teammates as a Notre Dame athlete, according to NCAA rules.
This severely restricted my access to trainers and athletic facilities. I could not do strength training or conditioning with my team, and instead had to train on my own. Upon learning this, I realized the significant role Online Yoga could play in my fitness routine. I knew I could count on Debra's online yoga classes to provide me with workouts that would build strength and maintain cardio levels.
Furthermore, the convenience of Debra's website considerably decreases the stress and time management involved with being a student athlete. I save time avoiding the lines for machines at the student gym while simultaneously avoiding having to venture out into the bitter cold of South Bend, IN.
But perhaps my favorite part of Joyful Breath Yoga is the energy and positivity it provides me. Although I am alone, I do not feel that I am alone. Debra's energy and constant reminders to smile and enjoy working out provides me with the motivation I feared I would lose working out apart from my teammates.