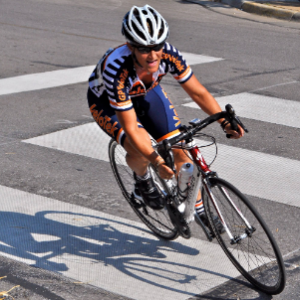 It was a beautiful Saturday morning on April 20th, just a few months ago, at the Velotek Grand Prix cycling event in Lawrence, KS, that I met Debra O'Bryan and her husband Tom.  Debra was an instant spark who approached me with her big smile asking me "So, do you race?"  That was the key stepping stone placed before me that has led me down my cobblestone path to my embracing yoga and pilates for cyclists. Not 2 weeks later Debra shows up on my front porch with her incredible energy to share with me all of the ingredients to 'rolling out my yoga mat'.
Yoga for Cyclist
This past spring I joined a local organized cycling team. It quickly demanded an intense workout of hard cycling many miles per week. I was typically recovering just in time to ride hard again the following day. Joyful Breath Yoga entered my life just in time. I would set up my laptop in my living room, super convenient, and log into JBY website. My first few weeks on the site allowed me to focus on Hatha Flow, Pilates and core strengthening. Each class I logged into met my needs, specifically working on key muscle groups affected by events in bike racing, ie criteriums, road races, and time trials.
Yoga and my Fitness Lifestyle
Race season has ended for me but not my fitness lifestyle. I also mountain bike and will soon experience cyclocross.  And once the snow falls my preferred activity will be snowshoeing.  I will continue to involve myself with JBY and maintain my personal relationship with what creates my inner peace. The experience that I have had in just 5 months has allowed me to be the best athlete that I can be.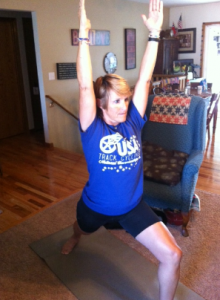 My appreciation to Debra for sharing her passion for earth and sky, and incorporating her talent through the stepping stones that are placed before me. JBY has changed my life!!