Member Spotlight – Yoga helped my body, mind and spirit
Our Member Spotlight of this month is Mithra Amaran has been a dedicated JoyfulBreathYoga member since the very beginning in 2012, and she would like to share her Yoga inspiration path with all of us, hoping maybe she can encourage more people to change their lives for good.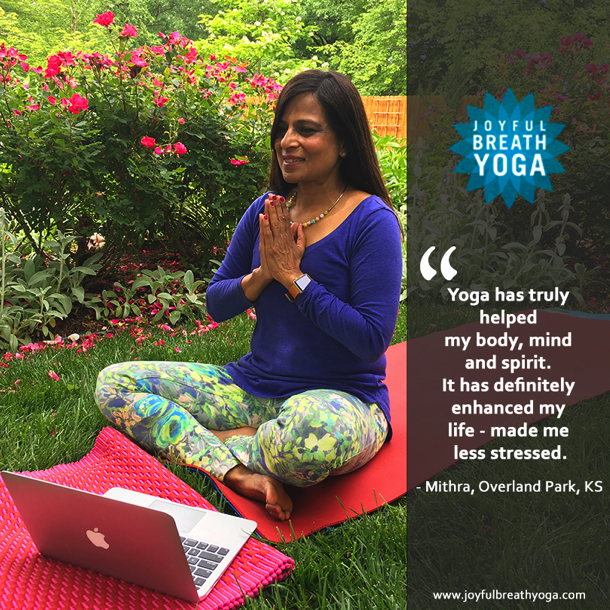 Why Yoga?
"It's not always possible for me to get to my yoga studio for a class. I've been looking at online options when I wanted to do yoga in my own time or when I was on the road. It also helped that my son, Ashok Amaran could make it a possibility (the website developer for JoyfulBreathYoga)."
When did she start?
"Since 2008. My sister had been practicing for 10 years by then and was a huge inspiration. I had practiced yoga with my father who did it every morning."
Why online Yoga?
"Online yoga makes it possible for me to continue my yoga practice with my yoga guru at a time that is convenient for me."
Do you recommend Yoga? On her words
"Yoga has truly helped my body, mind and spirit. It has definitely enhanced my life – made me less stressed, helped me to try new things in life – like the world's highest Zip Line in Queenstown, New Zealand."
Online Yoga vs Studio Yoga
Online yoga can be practiced with co-workers or family or alone at a convenient time for you with your yoga teacher. However studio yoga makes it possible for your poses to be corrected by your teacher so that you can confidently do online yoga on your own by just following your teacher.
Her advice for all the beginners
In order to gain confidence in your yoga practice, as well as, to get more flexible, you have to practice yoga every single day. Even if it is only for 5-10 minutes. Online yoga makes that possible.