This is our monthly Member Spotlight: Today we want to showcase the story of Brianna Maxwell and how it has been for her having Yoga in her life.
Since she was relocated to China she could not attend studio classes anymore, and Online Yoga became a possibility to stay with her practice.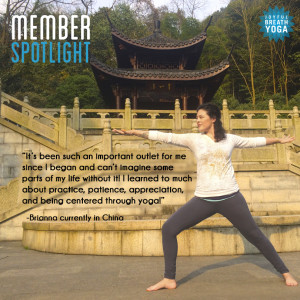 How did she start with Yoga? In her own words
"I began doing yoga a few years ago while I still lived in the Kansas City area. I still remember my first class, hot yoga with Debra. I fell totally in love with yoga and truly enjoyed Debra's classes. So when I moved to China I was just so grateful that Joyful Breath was an option."

She's been practicing Yoga for about 4 years and this is what she has to tell us about it "It's been such an important outlet for me since I began and can't imagine some parts of my life without it! I learned too much about practice, patience, appreciation, and being centered through yoga! It's definitely been instrumental to getting me to this place in my life."
What she loves about Online Yoga
"I love the flexibility! I am a mother and a teacher and I really don't have time during the day for much else. Online yoga means that I can practice whenever I have the time and that I can choose from a variety of classes."
What about… Studio Yoga vs Online Yoga
"I certainly see a difference but I appreciate both options. I love being in a studio and being joined in practice by others. I love having a teacher there to adjust my poses and really push me. The energy in classes is just such a wonderful thing and I miss that. Like I said before though, I love the flexibility of online classes though. I think that even if I had easy access to a studio, I would still do online classes as well."
Her piece of advice for the beginners' yogis around the world
"Yoga is not just a series of poses that you try to force your body into, it is breath and awareness and acceptance."
"Just take that first step! We all start at the beginning. Take that first step and make it your own. Then take another. You'll be surprised where you end up."
She has become another member of our Evangelists Yogis recommending Yoga around the world for its benefits. Check our website for a free trial.