We want to showcase Edie's story and how she got into Online Yoga. Now she is part of our Member Spotlight and she loves it!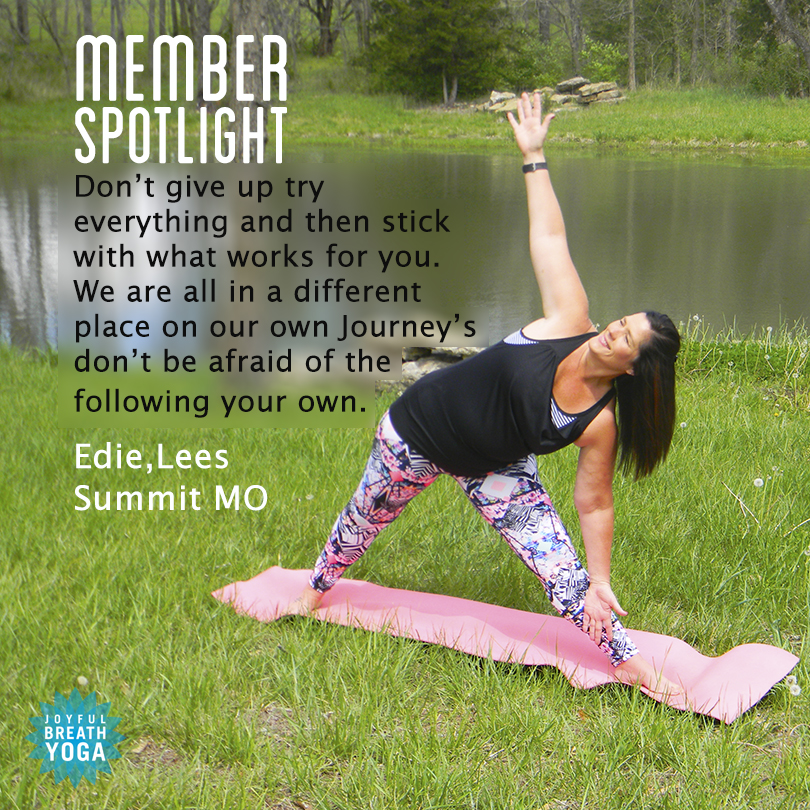 How did you get into Online Yoga? 
I had never tried online yoga until Debra started Joyful Breath.  At first, I was concerned it wouldn't have the same vibe as a studio does but I like being able to do yoga on my schedule.
How long have you been practicing Yoga for? 
A little over 8 years.
What is your personal opinion about Online Yoga? 
I enjoy the flexibility to practice when time permits on your own schedule, not having to plan ahead.  Additionally, being able to pick what class suits you for that day instead of having to do what is offered.
Do you recommend Yoga? 
Yes, I have encouraged and brought many of my friends to online and studio yoga.
Do you see any difference between online and studio Yoga? 
Yes, I like the vibe and feel of the studio.  I like the instructor being able to correct your poses and posture ensuring that you are doing things correct. Additionally, I enjoy the music during yoga.
Online yoga offers more classes to choose from each day, the convenience of doing things on your own and accommodating your schedule.  Personally, I think there is a place for both the studio and online in my exercise goals.  I enjoy both for different reasons and based on my schedule and feelings for that day I am free to choose.
Would you like to give any advice for all the people that doesn't feel confident or flexible enough to start doing Online Yoga? 
Yoga is a journey not a destination!  When I first started yoga, I was terrified but choosing the right instructor, choosing the right class is key to getting started.  Don't give up try everything and then stick with what works for you.  We are all in a different place on our own Journey's don't be afraid of the following your own.  Online yoga is a great place to start so you feel confident and comfortable before trying a studio.
Want to try Online Yoga? Get a free trial here!