Member Spotlight: Anytime, Anywhere – Susan Kelley
We love our community and have been working closely with our members to show their stories and provide some inspiration to the global online yoga community.
We have one aim with these Member Spotlights: Showcasing just how accessible yoga is for everyone and how it can be life changing for you!
Read this story from Joyful Breath Yoga member, Susan Kelley, below!
Susan has been practicing Yoga for about 14 years. She started attending classes with Debra 4 years ago and with Debra's style, enthusiasm and encouragement, jumped at the opportunity of participating in online yoga classes.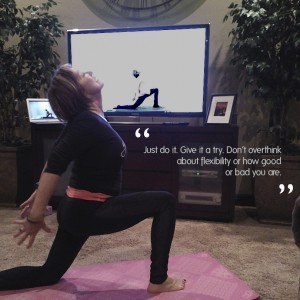 Yoga evangelist:
Susan recommends yoga especially for young women: "So that as they go through body changes with maturity (aging!), their bodies stay flexible, and their spines stay in good and strong shape. I am positive my husband and I are in as good health and shape and as strong as we are, partially because we do yoga regularly."
Her personal opinion about Online Yoga:
"Oh, goodness!  I LOVE it!  I cannot imagine doing anything else now!  I love being able to fit it into my day wherever it works out for me.  I love the variety of classes, the variety of difficulties, and the variety of lengths of classes.  I am getting ready to do just 10 minutes of a pilates class, focusing on upper body.  Just because that is what I have time for and that is the type of class I feel I need today to integrate into the other classes I have done this week.  That is how simple it is!  One other perk for me is that we travel a lot.  I NEVER don't have my computer when I travel, therefore, I am NEVER without Debra and her classes!  My yoga mat travels with me.  Fits in my suitcase!  I can do a class with Debra in Scotland as easily as I can do one with her at home!"
Susan's advice for all the beginners or people that would like to start doing Online Yoga:
She says: "Just do it. Give it a try. Don't overthink about flexibility or how good or bad you are. It is easy to go to the website and find practices for people who want to learn the basics if they didn't know all of the postures. There are classes for all abilities and that is a blessing."
Most of the time, the ones that resist yoga the most are men and online classes can help them get the confidence to start without feeling judged.
Susan recommends yoga for those around her age because she truly believes it slows down the aging process. She is an example!
Follow us on Facebook and Twitter to get receive more updates and some of our free yoga classes! We promise you'll love them. Also, you can check out our Joyful Breath Yoga site and become a member of our community for regularly posted online classes and more!