Hi Cyber Friends, I'm Julee. Debra has asked me to write a blog about our trip, so here it goes.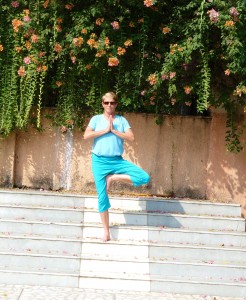 Just a little bit about myself to get started. I have been taking yoga for 1 year now and I love it. I've been a work out junkie all my life and a collegiate athlete. I had been interested in yoga for a long time but afraid to get started. To be honest, I was intimidated. I am very grateful I took that leap of faith and went to my first yoga class. I met Debra at my 2nd yoga class. It was her crazy Vinyasa Fusion class. After just those 2 classes I knew I was hooked. The slow mindful Hatha to the energy intense Vinyasa is just the balance I needed for my mind, body and spirit. Debra will tell you I like the different styles because my blood type is a "B," but regardless I knew I found a practice for life.
When the information came out about the yoga retreat to India, Journey of Joy, I knew I wanted to go. I can't tell you exactly why I wanted to go, but it felt like it was something I was supposed to do. I mean, who in their right mind takes a vacation to India? Believe me, I was asked that many times! It's not like India was on my bucket list or anything.
In preparing for the trip, I had a lot of guilt. I think most mothers' do when they plan to spend that much time and money without their family. Lucky for me, my partner of 12 years and my twin boys were very supportive. I am so grateful for them.
Right now I am writing this blog from my last plane ride home. It's been a long 20+ sleepless hours and I can't wait to be home! These 10 days spent in India seem almost surreal to me now. I'm still processing all of my experiences and have gathered a few nuggets from this trip. I will save those for my final blog on the Journey of Joy, India.
We were each given a journal and a pen to use for this trip and I have completely filled mine up with experiences and observations. I decided on Day 2 to blog David Letterman style and create the Top 10 Things I learned in India. There will be a separate blog for each of the 10 items, so let's get started.
The Top 10 Things I learned in India
1.
2.
3.
4.
5.
6.
7.
8.
9.
10. Monkeys don't make good drishtis!
We were on the lawn in Rishikesh for yoga with Dr. Jeyanthi. It was beautiful there, the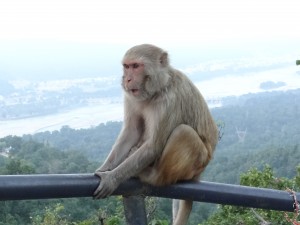 air crisp and the sun shining. Perfect conditions for yoga! Near the end of the session, we moved into balancing staff with arms up pose and Dr. Jeyanthi told us all to pick a drishti. She did not know there was a monkey about 15 feet behind her and I chose that monkey as my drishti. It was so cool watching the monkey and holding the pose. But then all of a sudden, another monkey came out of nowhere and they ran off chasing each other. Needless to say, I fell out of the pose and made a mental note to self, don't use a moving drishti!
Later at dinner, I brought up the monkeys and found out a few others also chose the monkey as a drishti and also fell out of their pose!
Note: Drishti is a Sanskrit word that comes from yoga. In yoga, a drishti is used as a focal point during a posture or meditation practice, gazing outward while brings awareness inward. Also, the practice of Drishti is a gazing technique that develops concentration and teaches you to see the world as it really is.