Nicole is an old friend that started doing Yoga and personal nutrition 2 years ago with Debra, we want to take the opportunity to stand her story out on the Member spotlight.
On her own words about the Yoga experience
"The results I was able to achieve through this training were phenomenal. I found it challenging to make it to a class in person consistently and online yoga was a fabulous solution."
We are happy to say Nicole is another Yoga Evangelist
"I am a huge advocate of online yoga. I believe yoga is crucial for prevention, rehab, maintenance and sound mind."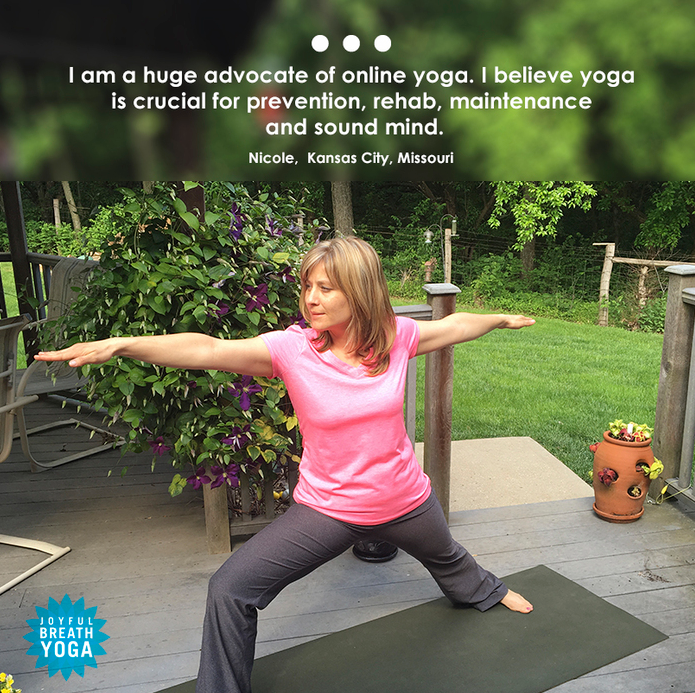 And when we asked her if she recommends Yoga this is what she told us:
"Yes, I do recommend yoga to my clients. I appreciate how Joyful Breath Yoga is designed to allow one to choose the length of the class, and whether they want an all body session or specific body sessions. This allows me to recommend different segments for specific concerns. For example, someone who is struggling with plantar fasciitis would benefit from doing foot yoga.

About Online Yoga vs Studio Yoga
She doesn't see a difference between the two and all because Debra brings the same great instruction and encouragement to both.
Want to start on Yoga?
The advice I would give to someone who is not confident or flexible is to encourage them to take baby steps, try several times, don't give up.
Yoga is for everyone and everybody had to start somewhere.
If you want to try a free class jump into our website and give online Yoga a try.