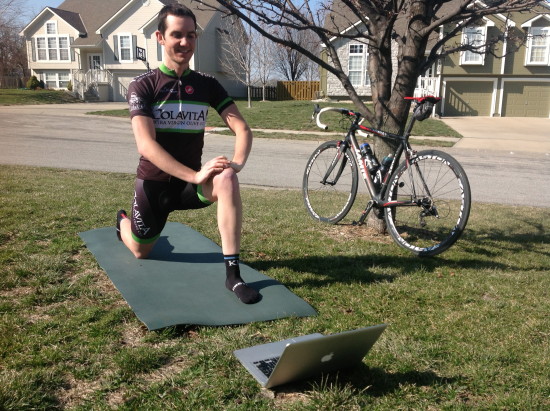 Debra and Tom approached me about Joyful Breath Yoga in an effort to demonstration how their program could be a success for a competitive cyclist. I had heard about the professional athletes they were helping with their programs and was intrigued by the benefits that yoga could provide for me. The hope was that the program would help strengthen my core and build any weak areas that cycling uses but does not build. I wanted a competitive edge! At the time I had just moved up to an elite amateur road racing cyclist and cyclocross racer. This required me to increase my training to 10-20 hours per week while covering anywhere from 180-350 miles per week. In cycling terms, I had just upgraded to a "Cat 2" and was now going to race against top amateur athletes in the county and even some domestic professionals on a weekly basis. Along with a full time job, I was going to be faced with a test of determination and dedication to ensure my body and mind were properly recovering before, during, and after the season.
Throughout my previous training, I was doing some exercises off the bike, but, for the most part, my strength and stability training was lacking. Bicycle crunches, pushups, and a few stretching routines were staples, but something was missing. Joyful Breath Yoga came along at the perfect time and I invested myself into the 12 week program and beyond to supplement my rigorous training schedule. The program I followed varied based on the number of hours I rode each week, but the following is the basic outline that was the most beneficial for me.
Build Season (January-March):
Once per week I logged in and followed a Hatha Flow, Pilates, or Core specific workout for an intense full body workout. These workouts are very hard and generally require a day or two of recovery. I try to put these early in the week so that I would be recovered for any weekend racing or intensive training efforts coming up. Planning is essential! Along with these full body workouts, I incorporated yoga into my everyday life. I worked on stretches that I learned from Debra throughout the day and used several of the restorative yoga sessions to help loosen my tight muscles and prepare myself for the next day's training.
Road Racing Season (April-July):
My body is typically very tired throughout the racing season, but incorporating core exercises during build blocks was important to keep my body tuned and strong. I would follow along the "purple ball" core strengthening exercises and utilize the online videos to ensure that I stretched and rolled my legs adequately. I found that without the online sessions, I would short change myself on the amount of recovery routines that I was doing! The time commitment was there once I started a session and I was forced to relax, breath deep, and let my entire body relax. (It doesn't seem forceful once you start the session!) It's a beautiful system and it's from the comfort of my own living room. Time and energy are severely limited based on my schedule and I can easily log in and knock out a session with the unlimited online access.
Rest and Cyclocross Season (August-December):
This is a transition phase for road cyclists while others are just gearing up for the cyclocross season. I treat cyclocross as a building phase and a fun time to rip up some grass and dirt. During this time I plan to heavily incorporate Hatha, Pilates and Power Core Fusion into my schedule as I will be cutting down my time on the bike and focusing on strength training for the upcoming road season. I guess killer abs, improved posture, and increased strength are just a bonus!
Joyful Breath Yoga has been extremely convenient and I can work it into my own schedule with ease. Having 24 hour access to Debra's full library of streaming video is perfect for my active lifestyle.
Debra and Tom are class acts and extremely motivational. They are what make Joyful Breath Yoga the success that it is. You can guarantee they will provide support and motivation throughout your yoga adventure. Try it! I dare you to improve your physique, mind, and health!
David Neidinger