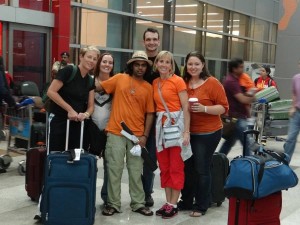 To say that I am forever changed by my journey through India is putting it mildly. This being my first time out of the U.S., I had my first "you're not in Kansas anymore Debra" moment when I got off the plane to India and went to the bathroom. Two of the stalls had only a hole in the floor in what is called an "indian bathroom", no toilet paper, no soap, no paper towels – yikes!
Outside the airport, our group was greeted by a huge "Journey of Joy" sign, welcoming us to India. Our car and driver awaited to take us to our hotel. The minute the car took off, the adventure began. In India, I quickly learned there are no rules on the road. I was overwhelmed by the traffic moving in all directions, switching lanes and playing what seemed to me "chicken" with the oncoming traffic. Horns are honking constantly, pedestrians stop traffic by holding up their hand whenever they want, add in rickshaws, bikes, and cows that have the right of way always, and you have what appeared to me, disaster waiting to happen at any moment. I couldn't look most of the time. The driver meanwhile was completely calm as he maneuvered easily through traffic – lesson #1 for me that I had not yet realized – finding peace in the storm.
We made our way to the Ashok Hotel where we were greeted by a drum band celebrating the wedding of two sisters. We all enjoyed a dinner of wonderful authentic Indian food and a nice room with a wonderful bathroom – the first place I would begin to check.
[KGVID]http://joyfulbreathyoga.com/wp-content/uploads/2013/11/Dancing-at-the-Hotel.m4v[/KGVID]
Excited to buy gifts for my family, I looked forward to a day in Dehli shopping. As we made our way to the shopping area, I took in the sites – slums everywhere intermixed with clean, nice buildings, trash everywhere and people – 12 million of them in Dehli, everywhere. Our guide Mahesh prepped us to be sure to "bargain" with the vendors – knowing that this is not one of my strong points – I began to have some anxiety about this trip. The American dollar equals 65 rupies, so our money goes a long way.
What I saw at market was true craftsmanship – clothes, wood carvings, bags, scarves, blankets – all beautiful. I was not prepared to experience the onslaught of people trying to throw themselves at me to sell their goods, many following me in hopes I would change my mind. This began to overwhelm me and I was ready to escape it.
Lunch took us to an area that was filled with beggars, mothers with babies, children dirty, hungry and begging for money. They would call me "mama" and pull at my heart strings. Following the advice of my Indian friends there with me, I knew I couldn't give them money or I would be bombarded by them all. This was the hardest moment of my life. We all see starving children on TV, but seeing them right in front of me was overwhelming. I knew that this was a moment in my life that God wanted me to experience and that the images and faces would be with me the rest of my life. I see them now as I am writing these words.
As I made my way that night to my room, rightly called the "Comfort Inn", I was brought back to the comforts of home, hidden away from all around me. I took in the many amenities of the beautiful room so much differently than I would have one day before. I felt immense gratitude for each part of the room – the soft bed, down comforter, beautiful toilet, overhead walk in shower.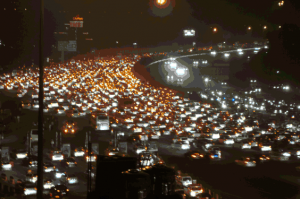 Looking out the window I saw thousands of head lights, heard thousands of horns, Dehli does not sleep at night.