WOW!!! I am so excited to share my latest Joyful Find with you all. Asutra Yoga Mat Cleaner is AMAZING!!! For the first time ever my yoga mat looks and feels completely clean. I teach classes all day and have never been able to get the deeper residue off of my mat. Our yoga mat is a "second home" and having it clean and fresh smelling is like getting into a bed with fresh sheets on it – oh so wonderful! Thanks to Asutra, my mat is cleaner than it has EVER been and looks brand new after every cleaning.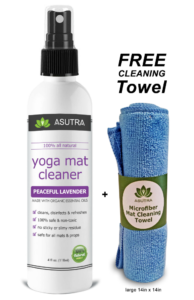 What I love about Asutra is so many things. First, their products are all organic and purify and disinfect your mat naturally. All germs, dust, bacteria and sweat vanish. Their products are purely water based and have essential oil infusions. I also love that there is no sticky residue – no more sliding on your mat after you clean it. They also give you a great cleaning cloth with every bottle you purchase and the price is wonderful – just $10.95. You can buy on their site, or for all of you Amazon Prime junkies like me – they are on Amazon too!
In this busy technology based world, the personal touch is often lost. Asutra is a woman owned business that truly adds a personal touch. I received a wonderful email after my Amazon purchase from Asutra, this never happens on Amazon. The owner Barbara personally responded to my email. I LOVE this product and LOVE this company!!