Transformation and Christian Yoga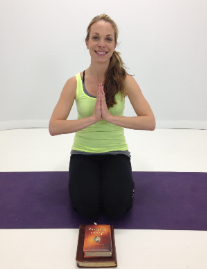 Teaching, instructing, and training others in the business of physical transformation; I have learned that not only do we have to train for the transformation we desire in our physical bodies, but there is a transformation process that our minds must go through also.  The thoughts that we allow to be entertained in our minds can either build us up or tear us down. Whatever we should then choose to entertain can become a belief about ourselves and others. If we then choose to speak those thoughts we give them life.  My motto focus long has been "what you think about you bring about."  Yoga has allowed me to transform and teach transformation in the physical body but has also given me a deep awareness of my spiritual walk as well.  I have walked with Christ for many years, inviting him into my yoga practice has been a rich blessing of stillness,(Psalm 46:10) a sanctuary , a source of strength, joy, and peace being in the presence of Jesus my savior.  I have had a rich opportunity to teach others how they too can build strength in their physical bodies while keeping a focus on our creator.  Transformation starts in the renewing of our minds, (Romans 12:2) In the morning I wake and Honor God with my devotions to him, but I can also know that my yoga practice can be an act of worship to him when HE is my focus of my meditation and gratitude!  Releasing negative habits and thought patterns and giving them to God in order to be who he truly created me to be is an experience of Freedom that I long to share!
I am passionate about encouraging others, empowering others in their own wellness, assisting  in creating  positive lifestyle changes has been a rich blessing to be a part of!   Come get encouraged! Build strength, flexibility, release stress through breath, rejuvenate and build time for resting/meditating upon God and truth. Together we can celebrate in the awesome changes our Creator has done in us, given us, and experience his joy!