Yoga brings calm to a busy life!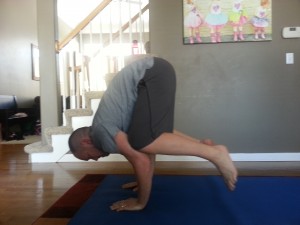 My wife and I have a busy life with 4 small children. Both of us work full time jobs, so finding time to exercise isn't easy. Rushing off to a gym or even taking a couple laps around the block requires one of us to be at home or we have to hire a sitter. Who wants to waste a sitter on a night of exercising? Well not this guy. Thru the wide variety of online yoga videos,  JoyfulBreathYoga.com has enabled me to practice any type of yoga any time of day. After practicing with online yoga for a few years now I have found that it is something that if you let it into your life it becomes a part of you. It's truly one of the best things I have ever started and consistently kept doing. I love that I'm getting a full body workout every time I practice with online yoga videos.  I don't have to keep tabs on whether it's a leg day or arms and back day. I don't have to count reps or try and guess how much weight to put on a machine. I am the weight, the machine, the gym and I can take JBY everywhere I go.
Benefits of online yoga practice.
Joyful Breath Yoga has helped me lose weight, and gain flexibility and balance that I never had even in my twenties. Through the online yoga I have learned what it means to have a strong core and to use it during other physical activities whether it's picking up a 50lb kid or walking on the dreadmill – I mean treadmill. I want to look fit and have a natural healthy physique and that's what online yoga has done for me. Not to mention it gives my wife and I something to do together. I know if we were going to a traditional gym she isn't going to be hitting the same pieces of equipment if even the same room that I might want to work out in. Yoga gives us a common thread that we both love and enjoy sharing with one another. It's been a lot of fun encouraging and congratulating each other when we accomplish a new challenging pose. It's definitely brought us closer and made us more appreciative of one another. We both dieted pretty hard before our wedding 10 years ago so we'd look our best on the big day. Joyful Breath Yoga has kept us looking and feeling better than ever.